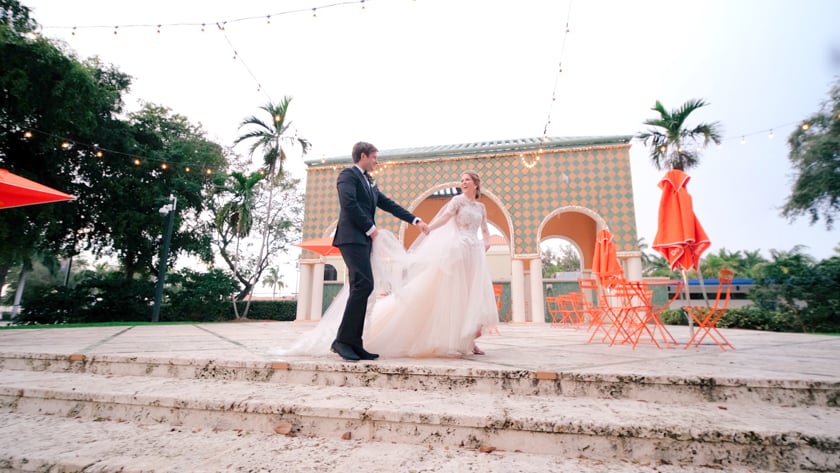 WEDDING VIDEOGRAPHY ROOTED IN ARTISTRY AND ELEVATED WITH EDGE
"Michele and Osiris captured all the little, real, special moments without ever feeling like they were in the way or we were doing things for the camera.  The video itself is the most beautifully shot and edited wedding video we have ever seen.  We watched many videos looking for a videographer, and nothing came anywhere near how fun, intimate, and brilliant our video is."
HI, we are michele & osiris
Offbeat but always on the ball
 As a wife-and-wife team, we bring a fresh approach—and double the eye for detail—to a space that's often overtly traditional. We live in that sweet spot right between "artful" and "adventurous" and always aim to deliver films that are both perfectly polished and artistically edgy—just like the people we serve. As a couple who still regrets not hiring a Miami wedding videographer back when we tied the knot, we founded Modern Love Productions out of a deep desire to capture the spirit (and not just the "stuff") behind your celebration—so you and yours can savor the joy of your wedding day for years to come.
wedding films to make fleeting moments last a lifetime
One-size-fits-all packages aren't really your thing-and they aren't ours, either. Instead, we allow you the freedom and flexibility of building off a base investment with custom enhancements to ensure we're capturing everything you want. If you're seeking a personalized process, a team that's both laid-back and always on top of it, and an artfully-edited, timeless film - you should take a peak at our offerings.
Miami & New York
Wedding Videographer